Visitors from Syria and Eritrea
Visitors from Syria and Eritrea
11 July 2017 (by News Editor (mrsk))
Visitors from Syria and Eritrea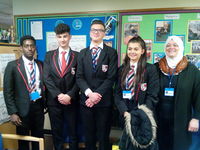 We were very lucky to welcome some young people from Lawnswood School.
Mrs Mason brought Abdelaziz, Lana (and Mum, Nabila), Esmail and Meron along to spend time with our Year 6 pupils.
We have been doing some work in class about trying to understand what is happening in different areas of the world to cause such unrest and, more specifically, what it means to be a refugee.
Four young people, all of whom have very personal experiences of being a refugee, spent the whole morning with us, sharing their very personal, and often painful, stories; teaching us how to count and write our names in Arabic and Tigrinyan; encouraging us to try some Arabic dancing; helping us learn about how to prepare and enjoy fatayers; teaching us about the nature of their faith and how deeply proud they are of it; and taking time to answer our questions carefully and thoughtfully.
Our children and staff were wowed by their strength, resilience and gentleness in the face of such unimaginable challenges. Having them with us was an invaluable experience and, most importantly, allowed us time to help our children challenge the, often negative, portrayal of young people who are refugees in the media and beyond. A wonderful morning for us all.