Fairtrade Mega-Banana Breakdance!
Fairtrade Mega-Banana Breakdance!
17 March 2017 (by News Editor (mrsk))
Fairtrade Mega-Banana Breakdance!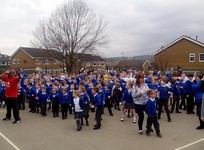 Fairtrade Fortnight was once again an exciting two weeks at Otley All Saints CE Primary School. The theme for this year's event was 'It's time to put Fairtrade in your Break!' as we remembered all the people who work very hard to put food on our tables but don't always get paid what they deserve.
We started off the fortnight with an assembly for the whole school performed by Year 6. They looked at how even a small change in the choices they make when out shopping for pocket money snacks in Otley on a Saturday morning they could make a real difference to other people's lives all over the world.
The whole school was involved during the fortnight. Year 6 pupils also ran a Fairtrade Made-in-a-Day Café for the staff at morning break serving Fairtrade drinks and snacks to the teachers, Year 3 learned all about where Fairtrade Brazil Nuts come from, Year 4 have been busy writing persuasive letters to encourage people to swap to Fairtrade tea and Year 5 designed and made their own Fairtrade cereal bars (their trips around school asking for tasting feedback were very popular). Year 2 were busy collecting wrappers from home to write about for a display and thinking about how they could link it to their Global Learning. Year 1 made Fairtrade lemonade - 'Delicious!" said Mr Robertson. Carol the Cocoa Bean told them how she travelled all the way from Africa to a Kit-Kat in the classroom and they all got tangled up in string as they investigated the links between the people involved in getting the cocoa from the bean to the finished product in our shops. Reception discovered that there is a lot to learn about shapes from the Fairtrade products they found at home and did some wonderful, creative independent writing about their products displayed in their classroom. Nursery used Fairtrade drinking chocolate to make delicious chocolate buns. Our Eco-Team, who have just regained the Green Flag award for our school, are running a whole school Breaks-and-Ladders tournament during playtimes and our governors ran a Fairtrade Café for parents during Parents' Evening.
Our grand finale on the last day was a whole day of dance culminating in a Fairtrade Mega Banana Breakdance led by our street dance teacher, Steve Johnson from DAZL (Dance Action Zone) in Leeds. Every class had a breakdance lesson during the day to learn the Banana routine. At the end of the day the whole school met out on the playground to perform the dance together – over 200 people dancing at the same time in glorious sunshine! We had then earned our breaktime snack – Fairtrade bananas for every child very kindly donated by Sainsbury's supermarket in Otley. A big thank you to them for supporting us.
Each year our activities during Fairtrade Fortnight are aimed at raising awareness of Fairtrade issues and how we can all make a difference to people's lives all over the world by making just a small change in the way we shop. Our children are now very familiar with the Fairtrade logo and have a good understanding of what it means.